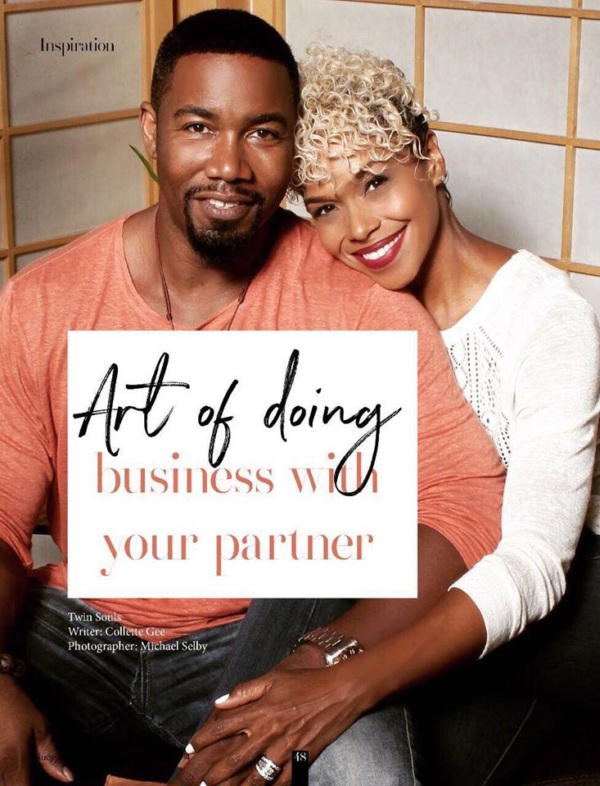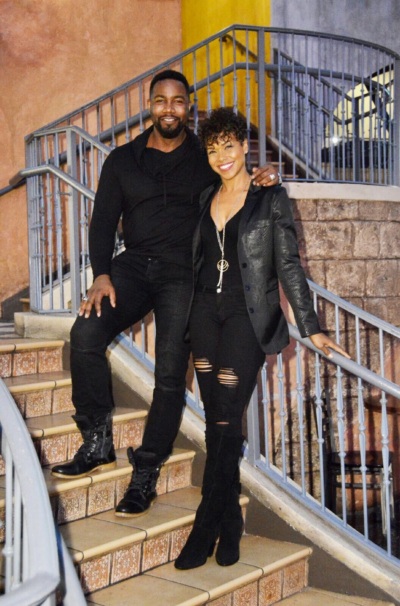 Michael Jai and Gillian White have it all!  They have the perfect family, a dynamic relationship and a growing production company (which has a slate of exciting projects in line) called "Jigantic Entertainment."  They have managed to do what many Hollywood couples fail to do; demonstrate patience, love and acceptance, which according to Gillian, is the key to managing a successful blended family, a great career and a loving relationship. 
Michael Jai White and Gillian White is a perfect pair who has a successful relationship.  However, each are successful in their own right.  The Why Did I Get Married? and For Better or Worse star Michael Jai White is an actor, writer, director, producer, stunt coordinator and martial artist. Gillian Lillian White is an actress known for roles in the films, Def Jam's How to Be a Player, Jackie Brown, Bamboozled. And, recently, both Michael and Gillian starred in a new Sony Pictures film shot in Bangkok, Never Back Down 3, which Michael also directed. They are becoming one of Hollywood's new "It Couples," and it was because of their ability to manage their success, family and their relationship we decided to feature them in the Successful Woman's Magazine this month.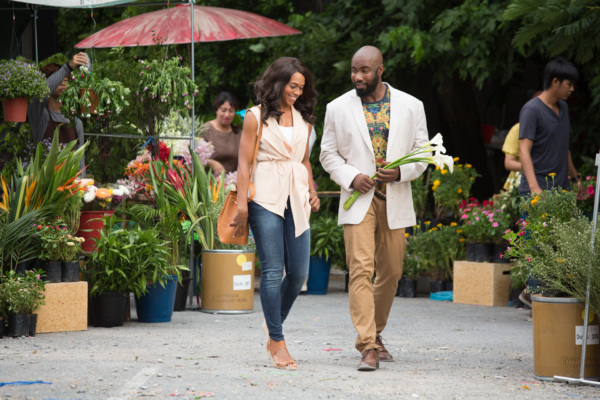 "We Are Twin Souls"
Michael and Gillian have known each other and have been best friends for 20 years, and accordingly they still embody the same views on love and spirituality as they did many years ago. They have a deep love and respect for each other. And, they share a love that can not only be seen, but can also be felt by people who know them, and by complete strangers who have only just met them or by people who have never physically crossed paths with them, but have been able to witness the love that they have for each other through social media, online or televised interviews and published articles like this one.
When asked if there were sacrifices they had to make spiritually or in other aspects of life to make their relationship work, Michael said,
"There really are no sacrifices in our relationship not spiritually or otherwise, says Michael. "There was a time in my life when I believed that being a man meant having side chicks and not getting caught. I mean that was what I learned and that was what older men would try to teach me. You were considered a real man if you could manage to keep your main squeeze or your wife separate from your side woman. I am not sure where that belief came from perhaps it was a slave mentality or something. I say that because I heard a lot of Black people say things like Black people aren't shit or that they were stupid and though I don't necessarily believe that is what they believed, but more so tried to convince each other of perhaps as a means of survival. If you didn't know anything or wasn't anything
then you didn't have to worry about being killed in that time. However, over time the belief of what made a man a man just perpetuated over the years and became the way it was. Being "The Man," is no longer important to me as it is to be a good man and husband to my wife who helped me to understand what it really meant to be a good man."
Gillian shares why she believes there really weren't any challenges in blending their families or beliefs or why she and Michael do not have to make any unhealthy compromises in their relationship. "We make it work because we just really love each other, and we enjoy each other's company," says Gillian. "We like to refer to each other "Twin Souls."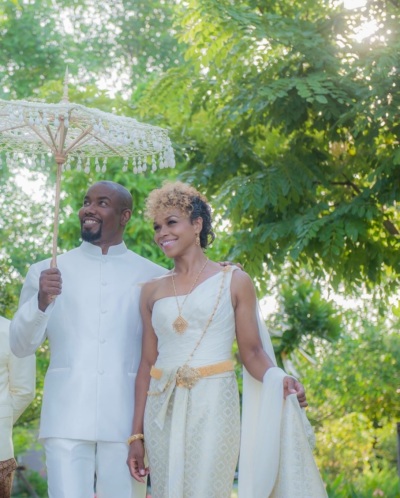 "Be True To Yourself."
In Hollywood it really isn't that easy for famous couples like Michael and Gillian to manage the career, family and the relationship so when I asked the couple how they managed to do it all, Michael quickly responded by saying how for him it took no effort.
"I think working in the industry can be challenging because of the temptation that some people have when they get on the set to sort of live a double life," says Michael. "I often forget that I'm an actor when I am not working. But, when I am working I know that I am playing a part and that I am not the character that I am playing. My life is totally different. But, I think for some actors, and, I don't believe that this is something that is always conscious or planned, and maybe in some cases it just happens, or maybe more so with individuals who are not really being true to their real nature, when they get on the set they want to be seen as though they were perfect without all the flaws, which is what can lead them to live a double life. I think it's important to be true to yourself. I really enjoy and love being with Gillian and I don't have this something inside of me that feels or wants to be with anyone else nor do I have a need to live some other life because she is everything I have ever wanted and more."
"I really don't like to judge other people or their relationship because each person and each relationship is unique. What works for some might not work for others. Maybe that temptation is the true nature of those individuals who find the need to live a double life when they are away or on the set. Maybe they are just really being their true selves in those instances. For me living that type of life doesn't work. Sometimes I have friends who say things like wow you two spend a lot of time together. But, I love it! There is no one I would rather hang out with. That's what works for me."
"Don't Let Any Cracks Into Your Relationship."
While Michael and Gillian have the kind of relationship people only dream of, other people find that relationships aren't so easy and require a lot of hard work to maintain. For some couples, particularly those in high profile relationships they have to deal with the certain pressures that everyday couples may not have to deal with for instance, making time for each other. Fortunately for Michael and Gillian they have the modern day conveniences of Skype, FaceTime or WhatsApp to connect as often as they can when one or both of them is working away from home. And, while it's true that some relationships can be tough or seem like work, for Michael, he feels that being with Gillian requires no work at all because it is what he truly wants to do.
Michael shared, "Everyone has friends. But, not every friend is the same. Some friends you see once a year, some you see once a month, and then you have friends that you see everyday. That friend you see everyday is usually your best friend and you see them or talk to them on the phone everyday because you genially love spending time with them, well, that is me and Gillian. We love spending time with each other and genuinely enjoy talking to each other and being together. For me, when you have your best friend as the person you are in a relationship with you have the best of both worlds."
Gillian added, "I do know of couples who experience certain pressures. However, Mike and I are best friends, lovers and we respect each other. I think that what's most importance in any relationship is not to allow any cracks into your relationship so that you don't get caught up in the things that you might hear. I truly trust Michael 100%, and we have a lot of love and a bond with each other, therefore there are no cracks for things to get into our relationship. With social media people say things, and you have Internet trolls who are going to put things out there but I don't let it get to me. I just brush it off because I have that armor on me that just allow me to let things roll off and not bother me. Overall you have to truly know who your partner is."
From what Gillian and Michael have shared in their conversation, it is possible to create and sustain a meaningful and successful relationship whatever it is "high profile," or not.
For men who are seeking the secrets to a successful relationship, Michael suggest focusing on being a man, rather than being trying to be, "The Man."  And for women like, like Gillian, want to, "have it all," she shared this important thought; "Women do wear a lot of hats: being a mother, a wife, having a good career and keeping a good home; women have a lot of roles.   I think the best thing that a woman can
do so that she doesn't become too overwhelmed with those roles and still be able to balance everything (which is something I am learning). is to share and delegate some of the responsibilities so that you don't have to do it all on your own."
True gems of wisdom for all successful women trying to be everything to everyone.  Women and men both have a lot to learn fro these "Twin Souls," who are great models for couples in both Africa and the United States.  Interviewing this successful Hollywood African-American couple and sharing their wisdom was truly a pleasure and honor.
Gillian has been asked to be the American correspondent in a show for women by women, as a host on an upcoing women's talk show in South Africa.  If you want to learn more about Gillian White and hear updates about the show, follow her on Instagram @sogillmatic
This article was originally published in the Successful Woman Magazine, and republished here with the author, Collette Gee's permission.
Collette Gee is an International Dating Expert, Relationship Specialist and Author of "Finding Happily, No Rules, No Frogs, No Pretending." Collette works with men and women, helping them to create and sustain meaningful romantic relationships. Click Here to Learn More