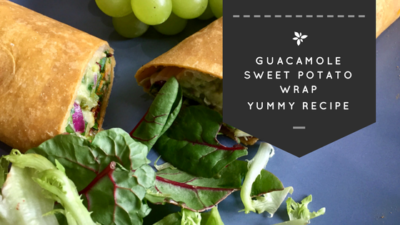 If you love Guacamole, then you will love this delicious guacamole sweet potato vegan wraps. These wraps are not only vegan, but also sugar free, gluten free and high in fiber.  They are quick to make, easy clean up, and absolutely delicious.  You can make these yummy treats by adding all of the ingredients in a bowl or you can mix everything in the Nutribullet.
The Nutribullet has become my most used kitchen appliance.  Its easy to use, easy to clean and takes blending to a whole new level.  Click here to order yours today.
Once I decided to make some dietary changes to improve my health,  the first thing I knew I had to give up was sugar.  And, while I do not drink a lot of caffeine or alcohol, I decided to give those things up as well. Meat was something I gave up a long time ago, but to take my dietary changes to the next level I decided to remove all meat products from my diet, including dairy.  I wasn't a big milk person, but I love eating cheese.  Giving up cheese was rough.
Anyway, with not too many options left, I had to start getting creative in my health journey and so I invested in a Nutribullet.  This has allowed me to create cool new recipes and modify old recipes.  I needed a kitchen appliance like the Nutribullet because I am so busy with my business I don't have time to spend hours in the kitchen.  But, with the Nutribullet, I can whip up some healthy snacks, including smoothies, juices, sauces, hummus, guacamole and dice up veggies for my curry dishes.  I always made guacamole in the bowl, which can be quite messy.  With the Nutribullet, it's quick and easy.  Share a picture of yours and leave a comment below
Guacamole Sweet Potato Vegan Wraps Ingredients
1 large avocado
2 tbs red onion
1 tbs garlic (add more or less for taste)
1 tsp of turmeric
½ tsp of lemon juice