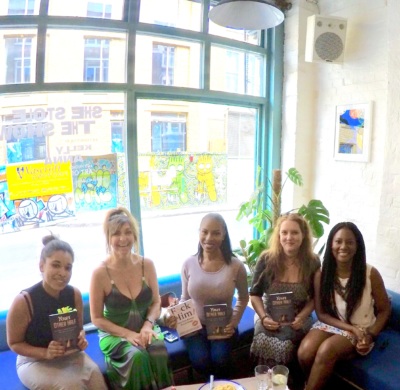 Welcome to C&C's Book Club! 
Reading good books is an important part of our mental and emotional acuity.  Through books we develop the mind, our understanding of the written word and expand our intellect and imagination. That said, we are dedicated to providing an online and in person community of individuals who are excited about reading great books that uplift and inspire.  Therefore we hope that you can join us from time to time, and share our book club with your family, friends and loved ones.
Who Should Join:  You should join C&C's book club if you love to read fiction or non-fiction books about love, romance and personal development.  If you've read books like The Rules, Pride & Prejudice, and The Alchemist, then this book club is for you.
Who We Are:  We are a  supportive and fun loving community that enjoys reading books that empower, inspire and educate us.
Hosts:   Collette Gee USA and Charlie Moore London, U.K. — C&C
The Plan:
Every month the group will read the select book of the month on their own.  Then, we meet on the last Saturday of every month in person (at select locations), and or virtually via Instagram Live to discuss the selected read.  This gives everyone nearly a month to purchase and read the book!  You can order the book from our list below, listen on audible or pick up a copy of the selected read at your local library.
Types Of Books We'll Read:
The types of books we will read will be both fiction and non-fiction books about love, relationships, romance, and personal development.
Video Of Our Last Discussion

C&C's Book Club Questions
GENERAL QUESTIONS
1. What did you like best about this book?
2. What did you like least about this book?
4. Which characters in the book did you like best/least?
5. Share a favorite quote from the book. Why did this quote stand out?
6. What feelings did this book evoke for you?
7. What did you think of the book's length? If it's too long, what would you cut? If too short, what would you add?
8. Which character in the book would you most like to meet?
13. What do you think of the book's title? How does it relate to the book's contents? What other title might you choose?
9. What do you think of the book's cover? How well does it convey what the book is about? If the book has been published with different covers, which one do you like best?
10. What do you think the author's purpose was in writing this book? What ideas was he or she trying to get across?
11. How original and unique was this book?
QUESTIONS FOR FICTION  
12. Did this book seem realistic?
13. How well do you think the author built the world in the book?
14. Did the characters seem believable to you? Did they remind you of anyone?
15. Did the book's pace seem too fast/too slow/just right?
QUESTIONS FOR NON FICTION  
16. What did you already know about this book's subject before you read this book?
17. What new things did you learn?
18. What questions do you still have?
19. What else have you read on this topic, and would you recommend these books to others?
20. What do you think about the author's research? Was it easy to see where the author got his or her information? Were the sources credible?
QUESTIONS FOR MEMOIR  
21. What aspects of the author's story could you most relate to?
22. How honest do you think the author was being?
23. What gaps do you wish the author had filled in? Were there points where you thought he shared too much?
24. Think about the other people in the book besides the author. How would you feel to have been depicted in this way?
25. Why do you think the author chose to tell this story?
QUESTIONS FOR SHORT STORY AND ESSAY COLLECTIONS    
26. Which short story/essay did you like best?
27. Which short story/essay did you like least?
28. What similarities do these stories share? How do they tie together?
29. Do you think any of the stories could be expanded into a full-length book?
See the reading list and schedule below:

2020 Reading List
Unfuck Yourself , by Gary John Bishop — January Reading
We're Going To Need More Wine, by Gabrielle Union — February Reading
The Honeymoon Effect , by Bruce Lipton — March Reading
Finding Happily… No Rules, No Frogs, No Pretending, by Collette Gee — April Reading
You Are A Bad Ass , Jen Sincero — May Reading
What Every BODY is saying, by Joe Navarro — June Reading
*******SUMMER READING********
The Perfect Wife by, J.P. Delaney — July Reading
Getting to Happy — by,Terry McMillan — August Reading
There's Cake In My Future, by Kim Gruenenfelder — September Reading
Make Your Bed by William H McRaven — October Reading
The Color Purple, by Alice Walker– November
5 Love Languages by Gary Chapman — December Reading
Additional Resources You Might Enjoy