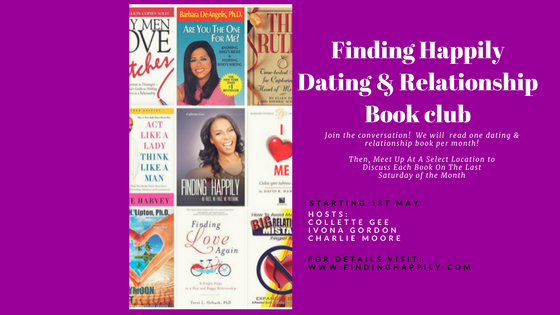 Finding Happily Dating & Relationship Book Club
June 4 @ 11:30 am

-

June 30 @ 1:30 pm

|

FREE
Dear Readers,
As a Relationship Specialist and Dating Consultant, I will admit that I have read tons of dating and relationship books. Books with rules, how to guides and game plans; all of which promised me happily ever after. However, after meeting and marrying the man of my dreams I quickly realized that happily ever after wasn't an ending, but rather a journey. Today my mission is to help men and women create and sustain happy, healthy and meaningful relationships.  I decided to start a Dating & Relationship book club to meet up in a relaxed atmosphere with like-minded individuals who want to learn how to get the best out of dating and relationship book.
The Plan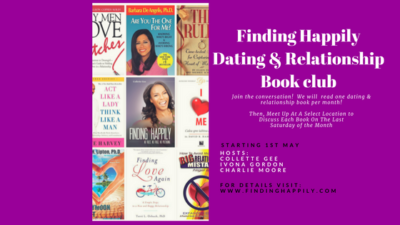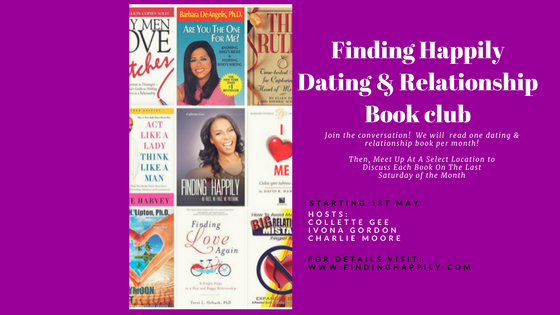 Every month we will read and discuss the details of the selected book of the month.  This gives everyone nearly a month to purchase and read it!  At the end of the month we will meet in person at a select location in London or Los Angeles, as well as Live Stream the discussion via Facebook Live (You Must Be A Member Of The Group to Tune In)
Below are some questions/quotes to get things started.  However,  I would love for this to grow into an open discussion with and between all of the members. Whenever possible I hope to have the author, or another prominent voice on the subject, join the conversation.
If you're ready to take your romantic life to the next level, please join me, your hosts, Collette Gee, along with hosts: Ivona Gordon and Charlie Moore.  Both men and women are welcome.  However, to meet via Skype or in person at the select location, please RSVP by calling: +44 20 3287 2734 if you're in London or +1-818-639-2130.
Dating & Relationship Book Club Questions:
What do you think of the book's title? How deep into the book did you get before you understood the relevance of the title? Did the title reflect the main themes of the book?
What is the key message in the book? How did the message affect you directly and indirectly?
Were there any rules in the book parallel the way men and women operate today or were the messages more traditional?
Did reading the book evoke any strong emotion in you? Cry? Laugh? Why? Was there one message in the book that resonated with you deeply?
When:
We begin reading our first book on May 1, 2018.  See the reading list and schedule below:
Our Reading List & Schedule: (Click On The Links To Order Your Copy)
Additional Resources