In this blog article I am going to show you how to find your happily through wine tasting.  Wine tasting is the sixth thing on my list because not only is a glass of wine relaxing, but wine also has some pretty good healthy antioxidants, and has been associated with reducing cardio vascular disease in both men and women.   However, as with anything moderation is necessary if you're going to enjoy a good glass of red or white, as overindulging in drinking can feel like a good thing, but lead to detrimental health issues down the line.
Wine Tasting In Cape Town South Africa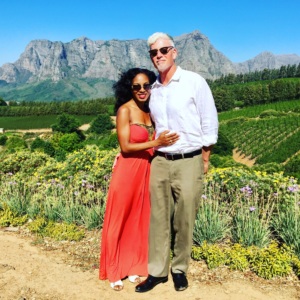 My husband and I been traveling through Africa since last year November and it's been great.  Africa isn't that different than America in terms of things you can do to enjoy yourself, so when we finally reached Cape Town South Africa we decided to hit up the vineyards.
Since there are so many wine vineyards to try in Cape Town we took a recommendation from our hotel concierge who told us that Stellenbosch was  one of the best in Cape Town.  Unlike my husband I had gone wine tasting quite a bit in the states.  However, he had never done a wine tasting so when we arrived at the Stellenbosch Vineyard we were both pleasantly surprised at how beautiful the grounds were.  And, until we arrived in Cape Town I had never experienced South African wine nor ever purchased a bottle of wine from a vineyard.  However, the wine was so good at this particular vineyard we walked away with two bottles.  One for dinner that night, and one to take to our next travel destination.
Aside from our beautiful experience at the wine vineyard, I must say that our experience in Cape Town South Africa was not what I expected.  In all of the the other places we visited in Africa: Nairobi, Mombasa, Arusha, Dar Es Salaam, Ethiopia, and Zanzibar, the people were so nice.  We were received with warm welcomes and open arms.  However, in Cape Town we did not feel welcomed.  Instead we were received with displeasing stares and glares, perhaps because we were an interracial couple, and from what we could see interracial couples or friends did not seem like the norm, at least now in any of the places we visited.  Obviously, I cannot speak for all of Cape Town, but from my personal experience I felt like I had stepped into a time when slavery openly existed.  It did not appear that the people of Cape Town were a diverse people in terms of race or culture, and since building relationships with people across the world despite people's age, race, gender or religion is something I enjoy, I wasn't too pleased about the separation and disconnect people in Cape Town seem to have.
Nevertheless we made the best out of our experience.  We shopped, we ate and we drank great South African wine.  You can learn more about my trip to the vineyard in Cape Town South Africa by watching the video below.  As always, if you feel inspired to share what you do to bring about peace and happiness into your life, please leave a comment below.  Thanks for allowing me to share my happiness.