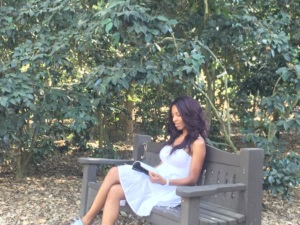 Hey everyone!  This is video/blog number seven.  It feels pretty good to start sharing these videos again.  If you've watched these videos from the beginning then you know that I am traveling throughout Africa and Europe for speaking and book promotions.  Right now I am in Senegal, however since my last video I have traveled to London and Ireland.  It was during my travels in London that I came up with the seventh thing on my list to bring about peace and happiness into my life and that is reading!  I chose reading as the seventh thing on my list because through reading I get to either sink into a fictional story or learn something new.  I think these are the only two reasons why people choose to read, learning or entertainment.  However, as a writer, reading is also a necessity because I get to see other people's writing thereby crafting my own style of writing.
The London Literary Pub Crawl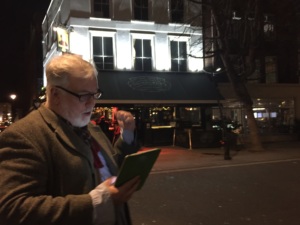 London is an amazing city!  Very diverse, great food and a rich culture.  I didn't think I would like London much before I traveled there.  However, after a day or so traveling around on the tube, eating great food and visiting some of London's historic sights I was hooked.  I am so looking forward to visiting again, and will be very soon as I am providing a workshop called, "Uniting to End Violence Against Women and Girls," hosted by The Black Women's Forum in the U.K.
So, my husband and I traveled to London for the first time this year, and because we are such literary nerds, and because London supports the arts, particularly literary writers, my husband RSVP'd for the  Literary Pub Tour in London.
The literary pub tour is a guided tour of some of the places that some well known literary writers lived or worked during their time in London.  The tour is lead by,  award-winning writer, director and producer, Nick Hennegan, and goes for about two to three hours.
The tour began on time, however my husband and I were late.  Luckily the tour is quite popular so we were directed to the next stop on the tour and caught up with the group.  It was quite cold that night, but not cold for London, but coming from Los Angeles my husband and I were freezing.  We weren't sure if we would make it through the entire tour.  Thankfully we did make it to the end of the tour, and surprisingly easy despite the cold because of our guide and founder of the Literary Pub Tour, Nick Hennegan,  who did such an amazing job taking us through the 19th and 20th century when poets and writers like: Dickens, George Orwell and Virginia Woolf walked the streets of London.  It was quite amazing.
The Largest Bookstore In London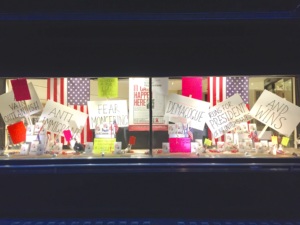 As I mentioned above, I really am a literary nerd, which is why I included reading to the list of things I enjoy doing to bring about joy and happiness into my life.  However, if I had to create a subtitle for this particular post it would be, "reasons I love cruising in the bookstore."
Aside from reading I enjoy also enjoy handing out in the bookstore.  Unfortunately, in the U.S., many of the bookstores have been shut down and bought out by larger corporations such as Amazon, Kindle, and ibooks.  But, in London it's totally different as people in London still believe in reading a good book and they love hanging out in bookstore because like me they still believe in literature.  And, lucky for me, while I was visiting London, I was able to hang out in one of the largest bookstores in London, called "Waterstones, London Piccadilly," and when I say large, I am talking New York City's Macy's meets Barnes and Nobles NY.  If you've never been to either just take my word for it, it's huge.  You can also click on the video below if you want to see just how big the store is.  Unfortunately, I was only able to film one floor of the store because one of the guards asked me to stop filming, and of course I complied.
The bookstore was amazing, however I did notice one thing when we were leaving the bookstore.  In the store window, displayed was a collection of billboards that had American politics all over everything.  I thought it was a bit out of place, however I took a picture of it to share it with all of you.  Please share your thoughts below and tell me what you think.  Thanks for allowing me to share, and please do share your own stories below.