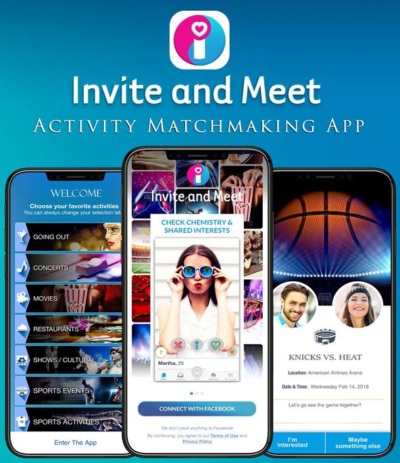 Recently, I wrote a blog post titled: 5 Dating Apps You Should Ditch In 2018.  While most people found my post very helpful, many questioned which dating apps I recommended.  Since so many people struggle with online dating and dating apps; many of them my clients, I decided to follow up with a recommended dating app.
While I do not recommend people use online dating or dating apps to meet a relationship prospect, there is only one dating app worth trying, "Invite And Meet."  In my professional opinion, most dating apps and online dating sites do not work because they are more prone to keeping people online, than they are in getting people offline and connecting with a dating prospect.
Although Invite And Meet hasn't been around as long as Tinder, Happn, Match and Bumble, it has the most potential.  For starters Invite And Meet is an activity-matching app.  Think of it like Tinder meets Meetup, whereas you go online to meet someone offline.   However, this app is only for people who really intend on meeting offline.  Time-wasters beware!  You will not be able to chat, talk, wink or any of the weird time-wasting activities that other dating apps offer.  The only way to connect is to first, sign up for an activity.  For some people this might sound a bit intimidating.  However, for individuals that are serious about actually getting out there and connecting with a relationship prospect, this is the app for you.
Unlike other dating apps that completely focus on algorithms, physical appearances or economic status, Invite And Meet matches people based on the activities they like to do.  So, if you're into surfing, hiking, diving or poetry, you can sign up to do something you love doing anyway, and invite and then meetup to do what you love doing with someone your interested in.  This is great because it takes all of the pressure off of the people and places the emphasis on the activity.  By meeting someone in this manner you can also avoid all the weird first date nuances, and just be yourself.  If you connect with the person you invited to do an activity with in the process, well that's a bonus.  If it doesn't work out, no loss because you got to go do something you enjoy doing anyway.
Here's How Dating App Can Work
In my opinion the only way a dating app or online dating really works is when the two individuals are serious about making the time to meet offline.  When I met my husband, we were both volunteering for a Gender-Based Violence agency called, Peace Over Violence.  Since each of us is passionate about helping to create communities free from domestic, interpersonal and sexual abuse, we knew we shared similar values.  Instead of meeting out at bars, our initial dates were at fundraising events and community outreach meetings.  Most of our focus was on the cause we signed up for.  However, eventually our dates segued into dinner dates, wine tastings and hanging out in bookstores.  Everything we love to do.  I think our relationship transitioned so smoothly because most of our dates were focused on the activities we enjoyed doing.  We had the best of both worlds!
In my personal opinion, if you really want to meet someone get out there, do what you love and try to make the connection organically.
I think that while dating apps and online dating sites promise to have the best algorithms they fall short with creating the chemistry, values and interest.  Sure, it's great to meet someone really hot online.  However, what happens after the initial physical attraction wanes?
If You Really Want to Meet Someone Get Out There
Perhaps it takes more than a swipe right or a swipe left to truly connect with someone.  You need 6 C's for a healthy relationship: Consideration, Conduct, Commitment, Communication, Compromise and Compatibility.  Sure, looks and chemistry matter.  But, at the end of the day it is the deeper things that make or break a relationship.
In no way am I endorsing or promoting Invite And Meet dating app.  However, since I received so many email responses to my dating app blog post, I wanted to take the time to provide my readers with a viable recommendation.
In my personal opinion, if you really want to meet someone get out there, do what you love and try to make the connection organically.  However, if what you do does not warrant the opportunity to meet a dating prospect, then I suggest checking out a dating app like Invite And Meet or joining Meetup.com to connect doing the things that you love.
My motto is: Life Can Be Challenging; Dating and Relationships Don't Have to Be.  Do share your thoughts in the comment section. Or you can share your thoughts via Twitter using the hashtag #FindYourHappily.