How To Find Your Happily Through Crochet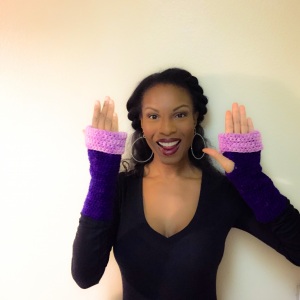 In this blog article I am going to show you how to find your happily through crocheting.  Crocheting is the second thing I recommend because you get to create cool things for yourself and more importantly for the people you love. But, before I get into the how to, let me remind you to please subscribe to my newsletter to get the latest and stay up to date with my latest blog post, upcoming events and free dating and relationship tools.  Okay, so let's get started!
Why Crochet?
Crocheting is a stitching technique that uses a crochet hook to weave fabrics.  I had no interest in crochet before I started, and only began crocheting after my mother suggested I learn to crochet as a way to alleviate stress.  And, so I did, and since then I have crocheted scarves, mittens and started making a baby blanket.  But, aside from learning how to make cool things, crochets  really helped me to alleviate stress.  At first I thought it was because crochet requires your undivided attention as you yarn over and pull through.  And, while that might be one reason I think another reason why crochet is such a great stress relief is because giving someone you love something you made for them, or wearing something you made for yourself feels really good!  For me, it's like no other feeling!
What to Crochet?
The most popular things people enjoy crocheting are: Baby Blankets, Scarves and Hats.  In order to make these items you can find fabrics like: wool, silk, cotton, cashmere, acrylic or alpaca at your local yarn store.  I like to use wool and cottons, and learned about these fabrics at a cute little yarn store in Pasadena CA called Wollhaus.  I also took a crochet class there to learn how to crochet and read patterns.  You can check out my video below to see some of the cool things that I made.
When it comes to choosing what to crochet, the simplest thing is to create something you will enjoy. Although, I think the easiest thing to create when you first learn how to crochet are scarves or blankets.  Perhaps I believe because the first stitch you learn to make is a linear stitch, though that may be just my opinion.
My first crochet project was a creating round scarf, which I learned how to make  watching this YouTube video, I was very limited in what I could make in the beginning since I had not yet learned how to read patterns.  However, since then I have crocheted two pair of fingerless mitts and am working on a slouchy hat for my husband and a baby blanket for my grandson.  You can get some cool patterns or ideas from either YouTube, websites or from magazines.
In summary crocheting is a great way to bring about more  peace and happiness into your life, and into the lives of others.  Through crochet you not only get to do something that is productive, but that is also easy and fun!  If crochet seems like something you'd like to learn or you learned how to crochet but want to pick it back up, please take a look at my video below to a some of the cool things I created.  After you're done watching please share your thoughts by leaving me a comment below.  I'd love to hear about your experience.