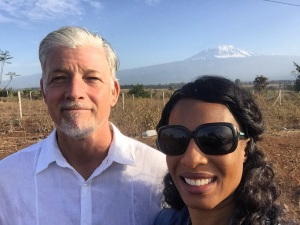 Recently, my husband and I packed up our things and decided to travel to Africa for an extended period. We are fortunate to work for ourselves and thus to make our trip possible we acquired contracts within most of the countries we wanted to travel to. Both my husband and I were excited to take to the road, or rather to the skies. However, since our journey began we quickly learned that there were pros and cons, and ups and downs when it came to traveling abroad. So, that I could help other people avoid some of our travel pitfalls and have a great travel experience, below I have written four ways to help you make the best out of your travel experience.
When you are traveling, not having access to the food you like to eat can be a real drag. But, on the flip side, not having access to the foods you enjoy can open up more opportunities for you to try something new or perhaps even learn a new recipe. When my husband and I arrived in Nairobi, Kenya I was concerned about my food choices, particularly because I am a pescetarian. But, because I kept an open mind we were able to discover this great little place called Mama Oliech. Apparently, Mama Oliech gained a lot of notoriety for their fish meals, but also because during one of Mark Zuckerberg's visits to Kenya he had eaten there, and shared how much he loved their food. I assume Mama Oliech must have been proud to serve Mark Zuckerberg because posted up on their wall was a picture of him eating their famous fish dish.
If you have a special diet, it might be hard to find things you can eat or like to eat while traveling. So what I recommend is planning ahead. You can either travel with the ingredients you cook with so that you can prepare meals that you enjoy or you can research the areas you will be visiting, and find restaurants or places to eat that serve the foods you like. The key is to keep an open mind. If you find that a place serves something close to what you like but doesn't cook it exactly like you like it, give it a try, you just might be surprised, and you might really enjoy it.
My husband really enjoys eating Mexican food, rice, beans and flour tortilla's to be exact. When we started planning our trip one of the things that he began researching was whether any of the countries we'd be traveling to had Mexican restaurants. While he did find that Arusha, Tanzania, the first place we visited in Africa, had a Mexican restaurant.  We soon discovered that the food was not very good. The second thing he researched was whether we would be able to purchase the ingredients so that he could prepare a Mexican dish.   And, while we weren't able to find the exact ingredients, we were able to discover that not only did Arusha, Tanzania have the best beans and rice, but we also discovered a healthier version of a tortilla called "Chapati." We have since enjoyed many dishes in Africa, and none of them we were  used to eating in the States, but all of them delicious!
Lodging: How to Find the Best Places to Stay
My husband and I stayed at our first Airbnb. We heard about Airbnb from trusted family and friends and decided to give it a try.
The first place we booked through Airbnb was in Nairobi, Kenya, which by the way is an amazing and thriving city.   My husband and I fell in love with Nairobi, and I highly recommend if you want to explore cities in Africa, you put Nairobi on your list.
Although we loved the city of Nairobi, the lodging we booked through Airbnb was a disappointment to say the least. The first thing we noticed was that the place did not look anything like the images we saw on Airbnb's website. Having heard about the experience other people we know had through Airbnb, we were quite disappointed when our first Airbnb experience did not meet our expectations.
But, instead of getting angry and pointing out all of the flaws, and highlighting all the details we did not like, we took the opportunity to get out and explore Nairobi. After all, experiencing the city and all it had to offer was the reason we were there, so we did just that, and let me tell you we had an amazing time.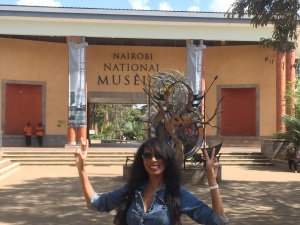 One of the places I really enjoyed seeing was the Nairobi National Museum. I learned more about African and African American history walking through and exploring this museum than I learned in 12 years of history in the U.S. It's a must see!
Note: How to make your African Airbnb experience worthwhile
With tons of people opting to use Airbnb instead of a hotel, it's important to make your Airbnb experience one that is worthwhile. Here is what we did before booking our next Airbnb, and I recommend you do too before booking your first: Ask, a lot of questions about the place you plan on booking. While most hosts are good about leaving details and pictures about their home, some may not include the things that are most important to you. Instead of checking into another place that looked spectacular online and being disappointed, we made sure to ask our next host if the pictures were an accurate representation of their home and question regarding the cleanliness of the space (don't ask).
Now, I know can imagine that asking a total stranger questions surrounding the cleanliness of their home, might seem a bit inappropriate, however what is even more unfortunate is having to sleep in someone's unkempt home, that you paid for! And, let's face it, if the host has a problem with you asking questions do you really want to pay them to stay in their home?
Language: How to Get By Without Speaking Wolof or Swahili
When you travel to a place like Africa it is more than likely that the people will not be fluent in English. Nevertheless there are ways of getting around language barriers.
With so many smartphone applications, it is hard not to be able to learn a word or two or a phrase to help you get by. And, with social media apps like Facebook, it is much easier to connect with someone from the country you'll be visiting, who speaks your language and the native language to that country, prior to your visit.
Google Translator is another great language app to help you while you are traveling abroad. So far I have used Google Translator to read menus, destination signs, and local newspapers, which by the way I think is an excellent way to learn about the News, politics, and events going on in a new city.
There are some other cool language apps such as Duo Lingo and Tiny Cards that can teach you how to speak and read in another language. I recommend these apps for people who are planning on traveling for extended personal or work visits such as my husband and I am doing.
Technology: The Internet and Cellular Connections
I did not realize how important the Internet and mobile services were until we arrived in Arusha, Tanzania. Arusha is a beautiful city in Tanzania. It is very untouched, has great food, and has some of the most amazing wildlife and beautiful views you will ever see.
Prior to our arrival in Arusha we learned about the constant power outages from some of our friends who had traveled throughout some of the countries within Africa. However, my husband and I were not worried and were in fact looking forward to living a night or two or three without power. Particularly since we live in the heart of downtown Los Angeles. What we did not realize was how much the power outages affected the Internet and mobile services, and for us that was a problem.
Prior to leaving Los Angeles I had my iPhone unlocked so that I could purchase SIM cards across the countries we would be traveling to. However, even with an unlocked iPhone and a Tanzania SIM card, I found that the Internet and cellular services were iffy. What I soon came to realize was that during the power outages the mobile and Internet service were also unavailable. I think for me going without power would not be so bad if we were on a holiday. However, because my husband and I work for ourselves, we found being without reliable Internet and cellular service challenging. We were at a complete disadvantage. Specifically because none of the calling apps like WhatsApp, that we signed up for before we departed LA worked without an Internet connection.
So, here are some solutions to work around lack of Internet and Cellular connections:
If you are traveling to a country that has a poor Internet connection get as much done work done when you do find a connection. I found that when we had a good connection whether from our smart phones or via a hotel or café's Internet connection, that we made sure to connect with our family and friends, and made business calls. We used apps like: Skype, WhatsApp and Google Chats, all of which have great when you have a good Internet connection.
Find a cool restaurant, coffee shop or a hotel that offers FREE wifi services to visitors. Not only will you have the opportunity to connect to the Internet, but you can also grab a bite to eat and potentially meet new people. We loved going to this cool little coffee place in Arusha called Fifi's. Not only did they offer free wifi, but also the best deserts in Arusha.
The third option, which I have yet to try and am still looking into are portable international hotspots. So far I have looked at these three companies: Karmago, TEP, and Xcom, however, from what I have seen, some of these are not available in Africa, which is why I am not sure as to whether these are good options or not.
The last options that some people prefer to use are global Internet and mobile plans from their cellular carrier. My husband uses Sprint for his mobile services, and so when we decided to travel abroad, he purchased an international plan from Sprint. The upside is that sometimes he was able to get cellular service via roaming. The downside is that countries like Tanzania do not have many networks to roam on which meant when everyone else had no Internet service, neither did he. Another downside to using an international mobile plan from a carrier like Sprint is the hefty roaming and data charges.
To conclude since my husband and I packed up and left for Africa I realize that traveling to a new place whether abroad or within your country can be stressful. However, what I have since learned is that by doing a little research, staying positive and planning ahead, traveling can be an incredibly rewarding experience with memories that will last you a lifetime.
Collette Gee is a Relationship Specialist, Author and Coach that show men and women how to love harmoniously and successfully. Click here to learn more about Collette.